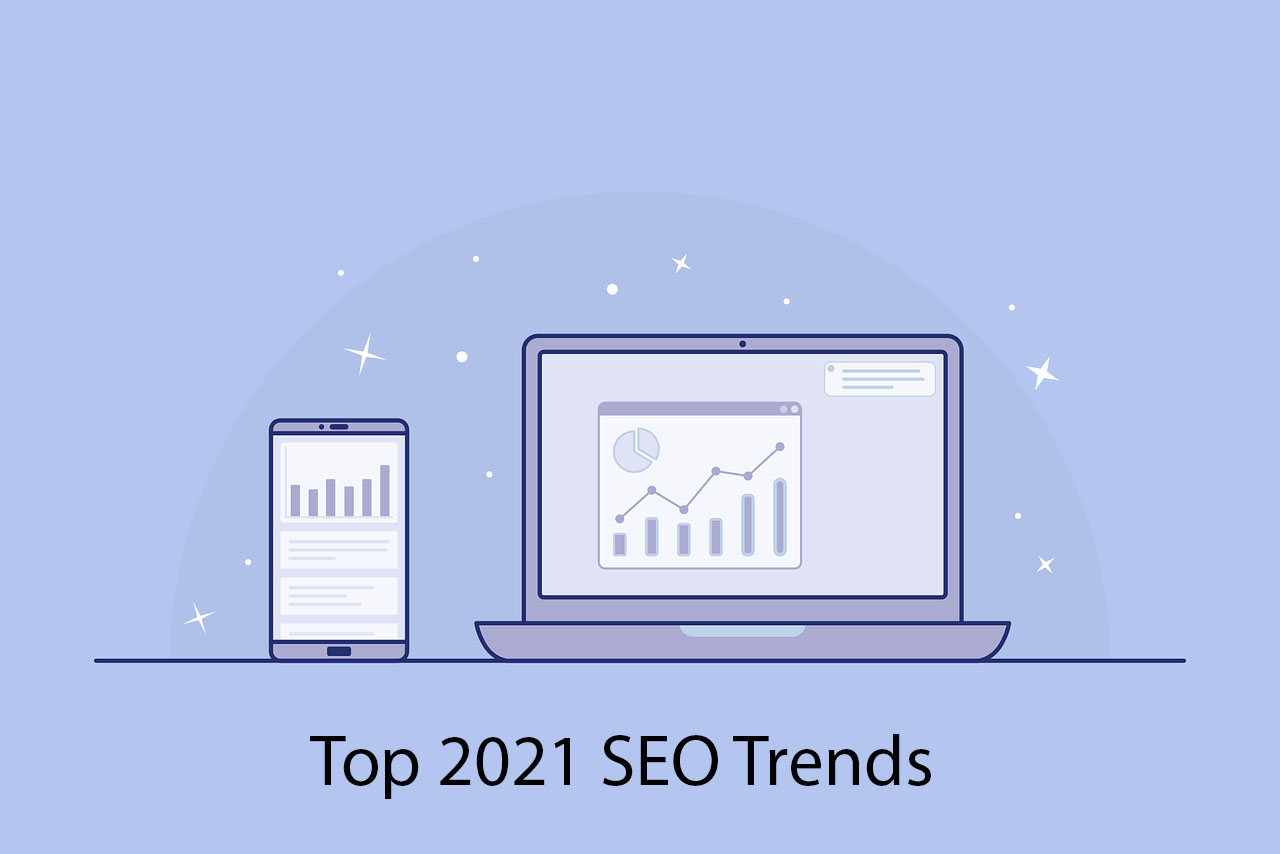 15 Dec

Top 2021 SEO Trends

When executed correctly, search engine optimization (SEO) is an effective way to draw traffic to your website. A crucial component to any marketing strategy, SEO can help increase your website's visibility in the Search Engine Results Pages (SERP). However, just like everything else, SEO is continually evolving, so staying on top of the newest updates is essential if you want to be successful. While staying ahead of the game is crucial for any digital marketer, it can be challenging to do since Google is continuously updating its search algorithm. But having a peek at the top 2021 SEO trends and having a feel for what's to come can help any marketer stay ahead of the game.

As an SEO professional, it is crucial to stay ahead of the curve if you want to be successful. Check out the top 2021 SEO trends that can help you successfully prepare your SEO strategy for the new year.
Image Optimization
If you are not in the habit of optimizing your images on your website, make sure you make this a priority in 2021. Image optimization is projected to play a more prominent role in search, so make sure you are using high-quality images on your website and that you are optimizing the image for SEO.
Having a Mobile Optimized Site
Since Google announced mobile-first indexing, having a mobile-optimized website is a must if you want to increase your site's user traffic. Nowadays, it seems like everyone has a mobile device, so now Google will index the mobile version of your website first. Meaning, if you do not have a mobile-friendly website, your search engine rankings will suffer dramatically, and you will fail to rank highly.
The Use of Video
If you haven't already, including video content into your SEO marketing strategy is necessary in 2021. Nowadays, video content is easier than ever to make, and you don't need to be a high-end video editor. Thus, video content is projected to have a higher consumption rate than all other forms of content. Maybe this is because watching a video is preferred by most people over reading a long article, so be sure to create and optimize quality video content in 2021.
Local SEO
If you haven't already, implementing local SEO is a must in 2021. According to Google, an estimated 4 out of 5 users perform a local search so pay close attention to your local SEO. If you haven't already, optimize your Google My Business (GMB) listing and ensure that it is complete and all of the information is always up to date. Many use Google Maps, so your business will be more likely to appear in local searches if your listing is complete and optimized.
Quality is (Always) King
The phrase, content is king is relevant and will be even more so in 2021. So while you are in the midst of updating your marketing strategy, don't let your content's quality suffer. Trustworthiness matters and Google has made it known that it cares about the quality of the content. So if you want your website to be viewed as trustworthy, well-written text is critical. In fact, your writing quality is more important than the number of keywords used, and the length is more likely to help in 2021. Concentrating on quality long-form content, which consists of 2,000+ words, can also help achieve higher rankings.